Cresson TB Sanatorium Remembered
John Juth


I received the following story from Bernie Juth in November 2011. His email address is:

bsjuth@hotmail.com


_____________________________________________________________
1. John Juth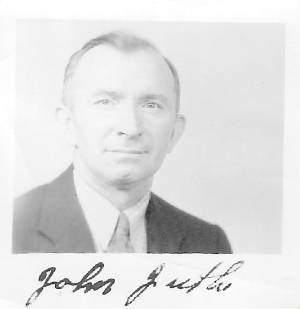 Little is known about my family relatives back in the late 30's and early 40's as there are no records and very few pictures.

What I do know is my father George Juth and his brother John came from Croatia in early 1917 or so.

From Ellis Island they worked in steel mills in Pittsburg, Ca. (see footnote) and Birmingham, Al. and ended up in Aliquippa, Pa.

While in Alabama they married two sisters, Myrtle and Agnes Thornton from Alabama City, Al.

In the late 30's John became a patient in the Beaver County TB Hospital in Monaca, Pa.

Later on he was sent to a facility in Cresson, Pa to a sanatorium.

We were only able to visit him a few times.

We think while he was at the san he may have been an orderly and may also have worked in the post office.

He passed away in 1945 and his remains are buried in William Penn Cemetery in Churchill, Pa.




2. John Juth with his wife Agnes and son Leonard.




4. John dressed for a cold winter day at the san. Note the height of the snowbank behind him. The building at the right in the photo appears to be the same building as in photo #3.








_____________________________________________
(Footnote) The Steelworker In Pittsburg - Pittsburg, CA

Gone are the days when steelworkers in the rolling mill toiled in extreme heat. catching red-hot steel rods equipped only with a pair of tongs, cotton gloves and leather shin guards. Today's steelworker is a pace setter in manufacturing, innovation, modernization, safety, and technology, and a model and hope for workers everywhere.



3. John is at the bottom left in this photo. The other men are probably fellow patients.




5. John on a nice sunny day. He probably removed his cap to get a clearer shot of his face. The tree made a convenient hat rack. The building in the background looks like the flat sun deck on the end of the Woman's East Wing.




__________________________________________________
The local mill opened in 1910 and was an early supplier to the state's gold dredging, ship building, and lumbering industries. The Pittsburg plant was a major force in the construction of the San Francisco Bay Bridge, Hoover Dam, military production in both world wars, and a pioneer in trade unionism, and continues as a major steel supplier in the west.

Reference: http://www.waymarking.com/waymarks/WM7CPA_
The_Steelworker_In_Pittsburg_Pittsburg_CA