Charles,
Firstly thank you for such a great wonderful site! My grandmother was only 4 years old when she was diagnosed in 1950 and has since wondered about her treatment as a child. She remembered very few things about where or what happened there and nothing about the treatment. We've been searching for records on her everywhere and can't seem to pin down the exact location she was treated, or even a list of sanitariums from the time period to help us narrow it down. But she has felt like she was mising a large portion of her medical history and personal history for so long now. She was in a sanitarium for 2 year. After we read over your sight, she was more determined than ever that she could find more information on her personal treatment. She asked me to send a letter and say thank you, but emails are just so much faster these days. I want to let you know that hearing what these places were like has inspired me to write a book about TB wards and children. You've inspired a new generation to remember and care, thank you.
__________________________________________________________
Hello Chuck--

My name is Lou Ann Micoli from Masontown, PA, located in Fayette County in the Southwestern corner of the state. A small article in our local paper, The Herald-Standard, regarding your website caught my interest and prompted me to write.

I believe that my father-in-law, Albert Micoli, was a patient at the same sanatorium in the early 1950s. He just celebrated his 86th birthday, and although he has been a resident of a skilled nursing facility for the past 2 years, he is in fairly good health. However, I only learned upon his admittance to the nursing home that he had previously had TB, after he tested positive to the routine TB screening administered upon his admission.

Until that test 2 years ago, my mother-in-law would occasionally make vague references to the year early in their marriage when Albert was "in a hospital for a year suffering from "lead poisoning", and that she had had a difficult time arranging rides to the "hospital in Indiana, PA" because it was almost 2 hours away. After Albert's positive TB test and the nursing facility's questions, she admitted to me that he had actually been "hospitalized" with TB.

The article in our paper caught my attention when I noticed that the sanatorium was located in Cresson, which I know is just outside of Indiana, PA, and therefore I am thinking that this is probably where Albert was treated.

I read your story and a few from the other contributors, and what I also found to be quite interesting is the leather-working taught as an occupational therapy. My husband still has a wallet that his dad handmade and gave to him as a small child, and although my husband was born after Albert's recuperation, I am sure Albert most likely made that wallet during his stay in Cresson.

Thank you for publishing your story, because it has provided my husband and me with some insight into Albert's life.

On a side note, as you are a Penn State alum, our daughter will graduate Penn State University Park this May, 2010, and our son has been accepted to PSU University Park College of Engineering as a freshmen this fall! Small world, as they say...

Thanks again
__________________________________________________________
(From Michael Maday)
Mr. Felton,
I sincerely appreciate your article in Sunday's paper. It brought back memories of our father (John Maday)and his stay at the Cresson Tuberculosis Sanitorium (CBT) for about two years beginning in 1952. When he left our home in Korn Krest (Hanover Township....near Wilkes-Barre), I was about 5 years old. His battle with tuberculosis was very tough on him and so difficult for us to see. I will never forget the day he left for the CBT. During his absence, we wrote letters everyday. We also prayed for his recovery by reciting a family rosary every evening. My mother and father had four children at the time he went to the CBT.....an 8-year old daughter, a 6 year old son, a 5 year old son, and a son that was not quite a year old. We did not have a car.....so, my mother had to depend one of her brothers to drive her to the CBT. Because we were so young and my uncle was not readily available to make the trip, her visits to the CBT were rare. My father's return home was marked with a lengthy recovery period. He had frequent appointments at the Kirby Health Center in Wilkes-Barre to get "air shots" in his stomach. All of us had also had frequent appointments to determine if we had contracted the very contagious disease. My father passed away in 1983 and my mother in 2000. We will never forget the incredible strength and courage exhibited by both my mother and father. We will also never forget the help provided by the CBT.
Again, thank you for your article and sincerely hope that you are doing well.
The family of the late John and Anna Maday
(daughter and sons: Ann, John, Michael, and Leonard)
__________________________________________________________
Subject: Cresson Patient


Chuck,
I read your recent letter to the editor of the Butler PA Eagle newspaper. It sure was interesting as is your whole web site. It reminds me to provide a bit of info about my aunt for your use as you want. That is about all I can provide. I often wondered if more info could be available but I think I may have it all. I do not know when my aunt entered the sanatorium, but her info is as follows:
Name: My maternal aunt was 'nee' Hildur Linnea Ahlberg, of Swedish descent.
Born: 20 Oct 1903 in West Mifflin, Allegheny County, PA.
Died: 17 Oct 1917 in the Pennsylvania State Sanatorium in Cresson PA.
She was buried in the Homestead Cemetery in Munhall, Allegheny County,PA.
Parents: Martin Lars Ahlberg and Selma Elemina Benson.
For a time line, I was born 1934. During my childhood my mother never talked about her sister Hildur, although two other sisters visited often. Mom died in 1951 so that when I got interested to want information, mom had already passed away. "What is written may last forever, what is not written will too soon be lost forever."
If I can be of further help let me know.
With highest regards to you,
Bob Shipe
Saxonburg PA 16056
(Left) Hildur and her mother Selma. I assume taken at their home or possibility it was on a visit of her Mom to see her at Cresson. No date is available.
(Right) An original copy of her obituary as printed in the newspaper of the Swedish Redligheton Society that was in Braddock, Allegheny County, PA.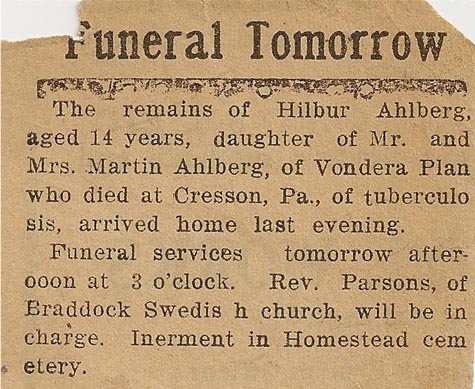 (Left) An original copy of her obituary from the Homestead Messenger newspaper.
__________________________________________________________________
Subject: The San
Dear Charles,
Just saw your web site about the Cresson Sanitorium. I was wondering if you could help me with some information. My grandfather, Louis Bassette, was a patient there at the san and I believe later became an employee.

My mom can't remember dates very well but I believe he was admitted to the san in the late 1930's and continued to work there up until his death. Not sure if that will help you or not that I don't have anything specific. He never returned home to his family after his TB was cured so I have precious little to go on. Being the curious one of our family, I thought it was time to answer some questions for our children. Louis's wife, Lucy, lived in either Mineral Point or South Fork at the time he was admitted to the san. HIs wife met with very hard times after he left since his sons were called off to serve in WWII.

If you have any information about Louis, I would so appreciate it. It is a blank page of our family history. Louis and Lucy emigrated from Austro-Hungarian Empire sometime around 1915 or so.

Thanks Charles, appreciate anything you might have.
Regards,
Sandy Fick

________________________________________________________
Subject: My relative was there at Cresson
Hello
I just came upon your site while researching information on how to obtain records from the sanatorium. My great grandfather Andrew Pajkos died in that place in May 1947. I never got to see him and have only one small picture of him. Do you know how to find the records and obtain copies? I am working on my family history and trying to locate any and all records available. I am really glad to see your site as I've been researching the net for the past 11 years and have not found very much at all regarding this place.
You may post on your site whatever you would like including his photo of course. I know very little about him. He came from Hungary through Ellis Island in 1904 when he was just 17 years old. He married at 19 and had 3 children (my grandmother & 2 brothers). His wife ended up leaving him and returned to Czechoslovakia where she died at the beginning of WW2 invasion. This was stated on the death benefit application. He worked in a steel mill and later as a coal miner in Cairnbrook, PA. He developed TB and was sent to the Sanatorium in 1945. Fortunately, when he died, my grandparents retrieved the body and had him buried in Richland Cemetery near Cairnbrook, PA. Sadly though, I do not have a copy of his grave marker.
Well, this is all the information I can give you. I think it is a fitting tribute to him and others to know that they are not forgotten and will live forever on the world wide web.
Thanks,
Debby Abad
Left: Andrew (Andy) Pajkos, location unknown.
Top Right: Death Certificate signed by B. Franklin Royer, M.D., the Medical Director of the san in 1947.
Bottom Right: Funeral Service Notice published in the Daily Tribune on 31 May 1947.
_______________________________________________________________